BOUND BY BLOOD
Book 2
USA TODAY BESTSELLER
Winner 2012 Heart of Excellence Paranormal Romance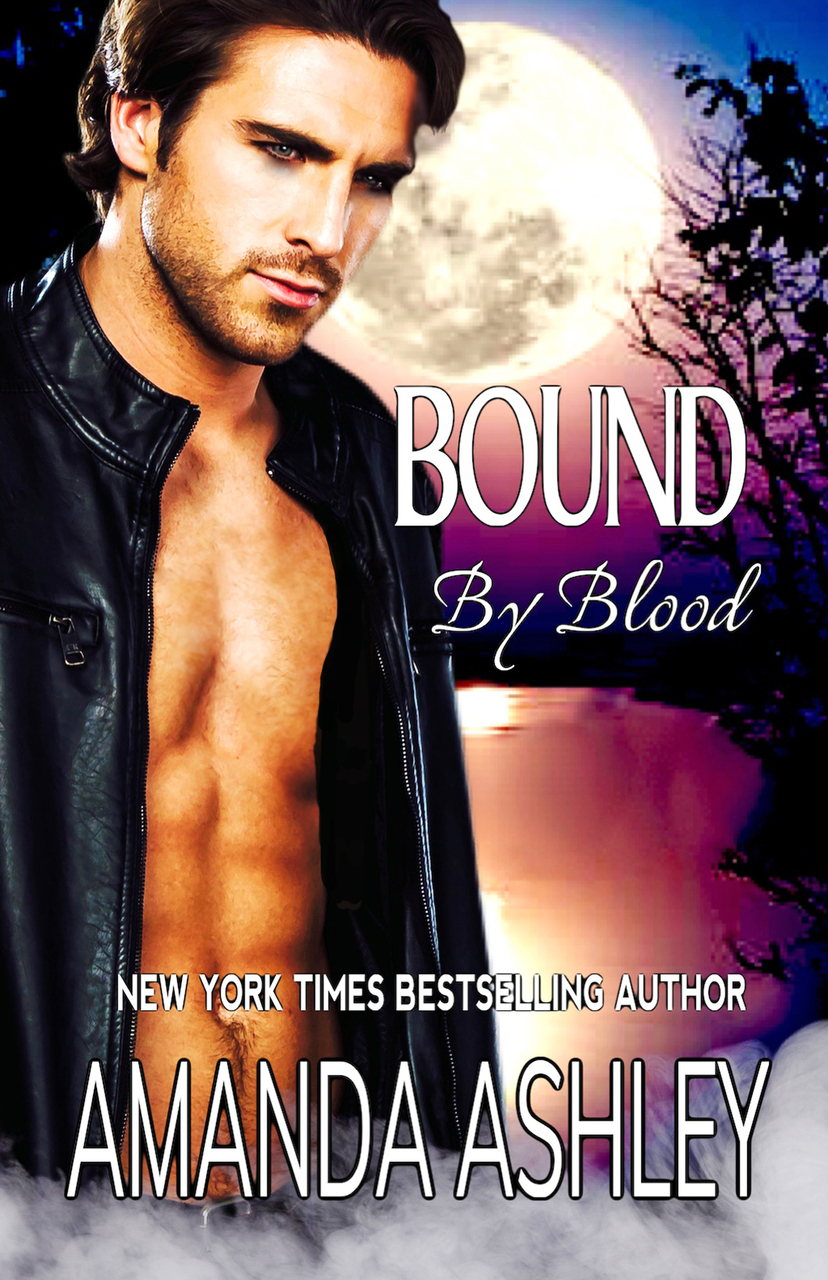 A VAMPIRE'S LOVE IS ETERNAL
Zack Ravenscroft loves women—all women—and they love him. The irresistibly seductive owner of the hottest casino in Vegas, Zack has tasted every wicked pleasure Sin City can offer. But never in his six hundred years as a vampire has he seen a morsel as delectable as Kaitlyn Sherrad, the mysterious young newcomer in town. Zack knows nothing about her—except that he craves her…

Kaitlyn is half vampire, half human—and all woman. As the cherished daughter of the Carpathian Coven's master, she has been given every luxury a girl could desire. Now her only need is for a prince. But though she's ready to gamble her heart on Zack, a powerful enemy stalks their every move…watches their every kiss…and waits to destroy their undying love…

Chapter 1
Kaitlyn Sherrad rolled down the window of her baby blue Porsche and stared up at the log cabin set alone in the midst of a cluster of tall pines. As usual, her father had outdone himself. Last month, when he had come to the States for her graduation from college, he had asked her what kind of gift she wanted and she had said, Oh, nothing much, just a little summer place in the mountains.
After pulling into the driveway and cutting the engine, Kaitlyn grabbed her suitcases from the back seat, then walked up the narrow, red brick winding path to the front door. Knowing her father, she wasn't surprised when she stepped inside and found the place already furnished.
An off-white sofa and love seat faced each other in front of a rough-hewn stone fireplace. A deep mauve carpet covered the floor, flowered curtains hung at the windows. The tables were walnut, as was the large bookcase that took up most of one wall.
Dropping her suitcases beside the sofa, she explored the rest of the house – two large bedrooms with a connecting bathroom; a den, complete with desk, computer and printer, sofa and big screen tv; a small kitchen with new appliances and a refrigerator filled with her favorites foods; a service porch equipped with a new washer and dryer.
She shook her head, a sting of tears behind her eyes. Being an only child, her parents had always spoiled her rotten, but this went beyond the ballet classes and piano lessons they'd provided when she was in grade school, the new wardrobe they had given her every year, the Porsche her father had surprised her with for her twenty-first birthday last year.
She had hoped her folks would spend the summer with her, but trouble at the Fortress had drawn them home. It wasn't always easy, having a father who was the Master of the Carpathian Coven. Sometimes, as now, his duties could not be ignored. Usually, her Uncle Andrei handled things at the Fortress, but whatever the emergency had been, it had required her father's attention, which meant that her mother had gone, as well. To her knowledge, her parents rarely spent more than a few hours apart.
Kaitlyn sighed as she removed her sweater and tossed it over the back of the sofa. Someday, she hoped to find a man who would adore her the way her father adored her mother. A man she couldn't live without.
Picking up her suitcases, she carried them into the first bedroom and tossed them on the bed. This room was done in varying shades of green, with billowy white curtains at the windows that looked out over a sparkling blue lake.
How was she ever going to show her gratitude for the love and kindness her parents had showered upon her? She had thanked them on numerous occasions, but "thank you" hardly seemed sufficient. She knew they hadn't been altogether pleased with her decision to remain in America after she graduated, but they had accepted it without argument.
Feeling a little homesick, she opened the larger suitcase and began to unpack. Her folks had always treated her like a princess, but then, maybe that was natural, since she had been raised in a castle in the heart of Romania.
All she needed now was a prince.
REVIEWS
Publishers Weeks said:
Ashley puts a paranormal twist on Guess Who's Coming to Dinner in the capable sequel to Bound by Night. Recent college graduate Kaitlyn Sherrad, daughter of Bound by Night's protagonists Drake and Elena Sherrad and heir to the throne of the Carpathian Fortress, moves to a Lake Tahoe cottage and is immediately attracted to neighboring casino owner Zackary Ravenscroft, unaware that he is a 600-year-old vampire whose extended family despise the Romanian vampires of Kaitlyn's clan. When the Sherrads force Kaitlyn to come back to Romania, she and Zack must face both her family's enemies and her father's hostility. Though most of the plot is entirely predictable, romance and intra-vampire warfare mesh more smoothly than in the previous book, the charming Kaitlyn is a much less passive heroine than her mother was, and Ashley neatly wraps up some loose ends to leave her fans satisfied.
ROMANTIC TIMES BOOK REVIEW FOR
BOUND BY BLOOD
4 1/2 stars
TOP PICK
The second in Ashley's Bound series is every bit as delicious as its predecessor, Bound By Night. Although not an unusual storyline, it is so well written, and the characters so interesting, that the pages won't turn fast enough. Ashley should be on your must-buy list. Terri Dukes.
Kathy J. said ~
Revenge Bites!
Bound by Blood, Amanda Ashley's sequel to the soon to be released, Bound by Night reminds us that the saying "revenge is a dish best served cold" holds true! Twenty years later, a still unappeased grudge festering against Drake Sherrad, Master of the Carpathian Vampire Coven, finds its way to the surface in the form of a threat against the most prized piece of his heart, his now-grown daughter, Kaitlyn.
Kaitlyn, recently graduated from college, finds herself wondering what to do now. A log cabin, a gift from her parents nestled in the forest of Northern California's Tahoe region, provides a quiet space in which to make up her mind. Gazing out of the cabin window that first night, movement brings a dark-haired handsome man into view. Stepping outside to confront the mysterious stranger, she tries to determine why she cannot get a sense of him or at least garner his thoughts, half-vampire as she is. Zackary Ravenscroft, a 600-year-old vampire and owner of the popular casino just down the hill, also is asking himself the same question.
Danger to Kaitlyn places Zack in a position to choose between the solitary life he has led thus far and the emotional ties he now feels and the protection he wants to provide. Which will be worse, the wrath of Kaitlyn's father when he learns the truth or the unknown enemy threatening her? Willing to take their chances together, Kaitlyn and Zack finds themselves preyed upon by both in an unbeknown repeat of the past which will test the love they have for each other.
Kathy J.
Fresh Fiction said:
Kaitlyn is the daughter of the couple of the first book in this series, Bound by Night. She can be a little naive, maybe even impulsive, but she is a fun character to read about. When Kaitlyn meets Zack, there are instant sparks; however, their relationship is unlikely to be smooth. Zack is an "Other" aka as a made vampire, making a relationship between the two of them forbidden. Nadiya, whose son was murdered by Kaitlyn's family, wants revenge and will stop at nothing to get it. Can Kaitlyn and Zack work together to survive?
Kaitlyn is half-vampire and half-human. She is a great main character,very easy to connect to and like. Of course, not everything is perfect in her world - there is an evil character stalking her, threatening her. Zack is the hero of this romance novel. Handsome and wild, this vampire can't get enough of Kaitlyn. Their chemistry is instantaneous and obvious throughout the book, the reader will love watching their relationship develop. The antagonist, although disliked, helps the book move along at a rapid pace.
BOUND BY BLOOD is a fast-paced, exciting read. The ending is satisfying, the love scenes are believable, and the characters are spontaneous. Any fans of Christine Feehan here? This book is perfect for any reader who enjoys her novels.
Reviewer Harriet Klausner said:
The second Bound romantic urban fantasy is a delightful tale of forbidden love starring fully developed protagonists and a well rounded support cast that deftly ties up threads from the first thriller. The fascinating star-crossed second generation romance is fun to follow though the plot follows the expected course as there are no major twists. Still sub-genre fans will appreciate Amanda Ashley's wonderful paranormal romance.
Dark Fairie Tales said:
Bound by Blood pulled me in from the first page and kept me entertained until the last page. The story is fast paced and moves along effortlessly as I fell in love with Kaitlyn and Zack. It was great to see characters from the first book and see how things were working out for them and to meet new characters and see a potentially new romantic story line for future books.
I enjoyed this book much more than the first in the series because there was no confusion about the time period it was written in. The characters were more detailed and developed. This made them more believable and made you want to root for them to succeed and end up together. The romance between Kaitlyn and Zack happens so fast and they go from intrigued and curious to all out in love in a matter of a few pages. It works for this book but I usually like the love to develop a bit slower. There is plenty in this book to keep you entertained with the forbidden romance, revenge, kidnapping, and some heavy duty fighting all interwoven. There is so much packed into this book in terms of plot and story line that it could have been a disaster but Ashley pulled all these threads together seamlessly and the suspense kept me turning pages long into the night because I had to see how everything ended.